Business
Top 6 Reasons Why You Should Have A Mobile App In 2021
Mobile phones are a basic need in 2021. The most common reason is the increased usage of Apps and Games. According to reports from Statista, the number of smartphone users will reach around 3.8 billion.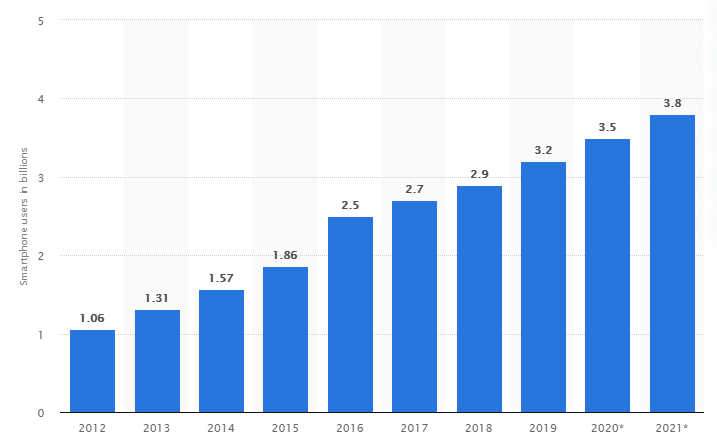 Leveraging this growth, developers have flooded close to 5 million apps in the Android Play Store and iOS App store. Looking at the exponential growth and profit, many business owners are looking to build an App for their business.
If you run a business, it is essential to have a mobile app in 2021. Mobile apps take you closer to customers and increase revenue without much effort. A good investment to build a Mobile App with basic features is the best way to start your business.
Top Reasons to Own a Mobile App in 2021:
Mobile apps elevate your business-standard. Mobile Apps were only associated with large-scale companies. However, lately, many start-ups and SMBs are building Apps to increase engagement.
If you are not aware of Mobile Apps' importance, below are 6 top reasons you should have a Mobile App in 2021.
Customer Engagement
Brand Awareness
Customer Service and Support
Boost Revenue
Customer Loyalty
Marketing Tool
Customer Engagement:-
If you have a Mobile App for your business, it is more likely to land on your customers' smartphones. It is a privilege to be in your customer's mobiles. Because you can engage with customers and get connected at whenever & wherever you want.
Mobile App is the most convenient way for customers to browse and use your service. As a result, your brand and business will get high visibility without you spending an extra penny. But, you have to use it wisely, or you may lose customers.
Brand Awareness:-
Being in the palm of your customers, 24/7 is the success of your brand. A Mobile App is a tool that can make this possible. Brand awareness builds trust and loyalty towards your brand. Also, your logo on the Mobile App is more than enough to create brand awareness.
Focusing on the features and functionalities of your Mobile App is the best way to get into the minds of your customers. The real success of your App is when you save the time and effort of your customers.
Customer Service and Support:-
In the era where everything is available at fingertips, customer service & support should also be available. Mobile Apps are the quickest way to reach for help.
Your product or service is evaluated and determined by the quality of customer service and support it offers. Thus a Mobile App is the best tool that provides the best customer support at an affordable cost.
Boost Revenue:-
Owning a Mobile App will boost your revenue. Whatever your product or service, offering a Mobile App to your customers, will increase the revenue. The crucial reason is the visibility and the availability of your Mobile App in their smartphones.
If you leverage your Mobile App rightly, you can persuade your loyal customers into membership and earn extra income. But, you have to integrate interactive features to make your premium customers feel good.
Customer Loyalty:-
It is of utmost important to build a true connection with your customers. Mobile Apps are the bridge that does the job perfectly. But, you must offer an interactive user experience. Building customer loyalty is one of the biggest challenges in 2021. However, Mobile Apps make it easier if you put the right efforts into them.
Additionally, it helps you to interact with your customers directly. The features like in-app purchases, Ads, and promotions will have a more significant impact if there is customer loyalty.
Marketing Tool:-
It is the least known secret that Mobile App is the most efficient marketing tool in today's world. Also, you can notify your customers about offers, discount and flash sale without spending a penny but with a simple push notification feature.
Data is the most incredible wealth in the internet-focused era. And, Mobile Apps help in gathering data of your customers. Moreover, you can get insights related to customer preference and behavior to target your customers' marketing plans.
Wrapping Up:
Now you have known the advantages of Mobile Apps for business, it is up to you to develop a Mobile App instantly. Start by choosing the best Mobile App Development company. Then integrate futuristic features that fit well with your business. Finally, market the App and release it on the platform your customers are most available.